How we started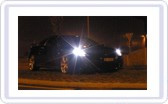 The swiss initiator (Dominic Lutz) started to pimp his car in 2001 (Picture left). A friend of him drove sometimes with such xenon looking lights behind him, so he asked him about them and then he started to test several products. The quality criterions were high, the lamps should be payable, long life duration, a nice, cold, xenon-like colour and they had to be bright enough as well. Finally he started with the manufacturer Toucan Industries and their label Eurolite because their price for what you get was simply the best at this time. End of 2001 he found a big distributor in Canada where he organised a first groupbuy for some close friends of him. These bulbs were delivered before Christmas. The bulbs held what they promised, so he decided to invest in these products and get the business running.
Every start-up is hard so in the beginning the selling was concentrated on some internet Toyota boards. He organised twice a year goupbuys - one to a big Toyota meeting and the other directed on Christmas. There weren't much bulbs in stock, because everything limited itself more or less to those groupbuys. The first pictures who showed the difference between the products went online 2002 on the private Homepage of the initiator ( at this time www.speedster.net). They got extremly positive reactions.
Around autumn 2002 we had to change our distributor, because to many bulbs of a big groupbuy were defective (against 20%). After this change the failure rate got very low, and still is (1-2%). Now the products were recommended more and more in 2002-2003 and were known in hole Europe. In Autumn 2004 a manufacturer out of South Korea named Biolight Ltd. launched a new Product -> Biolight Superwhite.
Biolight – a well known brand, we already tested early 2002. But at that time the bulb colour was not cold enough. This changed with the new product line "Superwhite". Those bulbs are even brighter than the ones from Eurolite. The essential advantage the new product was the certification (E13) - they are street legal. A big difference to Eurolite who wasn't.
The business was growing and the demand of the groupbuys increased a lot. It was needful to have the Products in stock. Investors were found in a very short time and the stock was bought up in a little while. The only missing part was a representative brand. It had to be a universal name, as we sold products from different producers. Finally we created the brand www.xenonlook.com
The reason for the .com address came from the fact that the lamps where spread from Switzerland to Germany, Austria, Italy, France, Sweden, England, Luxembourg and Czechia.
2005 was the time to sell globally and increase the assortment. The price structur of the main product had to be changed as well, it had to be reduced. This was not possible with the same brand, because the retail prices. So there was only one solution: we had to create our own brand.
2006 we created Xenonlook.com the one-man company with their own production-line and their own brand. In March 06 Xenonlook Superwhite started his debut and in july 06 followed the Xenonlook Hyperwhite parking lights.
The year 2007 was the year of the product enlargment. Xenonlook Superwhite H8, H11 and H13 were launched, also Xenonlook Hyperwhite H6W.
in 2008 Xenonlook.com Ltd. was founded and put down in the commercial register. Besides, the new product line Xenonlook Superwhite Premium delivers longer life duration as the normal Superwhite and optically they come along a little bit more nicely. At the end of the year we also integrated the LED Stripes and some other LED products.
With this stripes Xenonlook.com also started selling its products to home users. Also the CEO of Xenonlook has mounted these stripes at home and we also have them installed in our stores. Since our first order in summer 2008 all of them works without any problem, and the run at least 5h per day ;)
In the end of 2008 we got the distribution rights for Vulcanet Cleaning Cloth, because at this time there was no similar product at the market. That was the reason we started with it. We also used it for our showcars and our company cars.
New distributors were found and partnerships to other companys were signed by contract. That was the reason we can fulfill all our clients whishes. Our assortment rises from day to day and we cover more parts like headlights, daytime running lights, taillights and many more.
2010 we got the exclusiv importer for Microfiber Madness cloth, for switzerland and liechtenstein.
In November 2010 our newest creating become reality: XENONLOOK Brightness. Even our competitors wants this technology. (Competitors are Philips Xtreme Power/Vision and Osram Nightbreaker)
Since 2011 we founded a new portal WaxImport.com. Here you can get your car fully detailed, and you can also buy all products for car care at home. Solid brands like Swizöl, Zymöl, Dodo Juice
,
Chemical Guys
,
Smartwax
,
Nanolex
and many more belief in our excellent client service and our individual consulting.
Of course we still are open minded for our clients needs and we always search for new and better products.